A Shopify Success Story- Heatonist, Purveyors Of Fine Hot Sauces
As cliche as it may sound, but "Variety is Spice of life."  Spice lovers always search for new hot sauces and Heatonist, the brainchild of Noah Chaimberg precisely has what they need. He started the business in 2013 by selling bottles sourced from independent brands on a pushcart and gradually expanded to an online hot sauce retail platform and subscription model alongside a personalized tasting room located at Williamsburg, New York. 
After shifting its online store to Shopify, Heatonist witnessed tremendous growth in sales. Shopify provides all features to make a successful eCommerce website – user-friendly interface, reliable and secure domain, the capability to handle high traffic load, access to business apps, and more. It is noteworthy that  Shopify powers one million businesses worldwide. Even though Heatonist runs a brick-and-mortar store, the hot sauce supplies reaches a larger audience through its online store and subscription model. The massive and positive response to its online store on Shopify emboldened Noah to entrust Shopify Fulfillment Network with his shipping needs. Furthermore, Heatonist switched to Shopify POS to take care of in-person sales and inventory for its two tasting rooms.
So, what is the business's secret sauce? To offer fellow hot sauce lovers all-natural hot sauce made by small and independent makers all around the world as well as give a chance to taste before making a purchase.
What Makes The Brand Successful on Shopify?
It's amusing and satirical way of branding. Heatonist "Purveyors Of Fine Hot Sauces" is the world's most trafficked and top hot sauce website. Hover your cursor on each hot sauce bottle displayed to find an entertaining and playful description that echoes the tone of sophisticated wine connoisseurs. 
The descriptors are informative that exhibit a wide range of hot sauces from "aromatic" and "herbaceous" to "pepper" and "peach." It also offers a live chat with their "hot sauce sommeliers" for guided tastings similar to their physical storefront. Adding to the wine analogy, it has a humorous and witty stance on hot sauces and offers the same cachet that is usually reserved for wines.
The dynamic brand also has a remarkable presence on various social media channels. Be it the creative content on Instagram or curation of retweets related to popular Hot One series or hot sauces and any product announcements. Brand consistency, refreshing content, and customer experience distinguish Heatonist from its competitors. Apart from its social media engagement, it gets granular and specific with details that add to its branding efforts such as:
Email Id:

ilovehotsauce@heatonist.com

Instagram hashtag

#stayspicy

Dedicated a product page for the hot sauces shown on the popular celebrity interview series

Hot Ones on YouTube. 

Add a special and personal touch by stamping a handwritten note

"Packed With Love"

on every online order.

Creating a

"Heatonist Sauciety"

as a part of the reward program and calling all members

"Sauce-a-holics".
How The Brand Found A Reliable Partner In Shopify Fulfillment Network?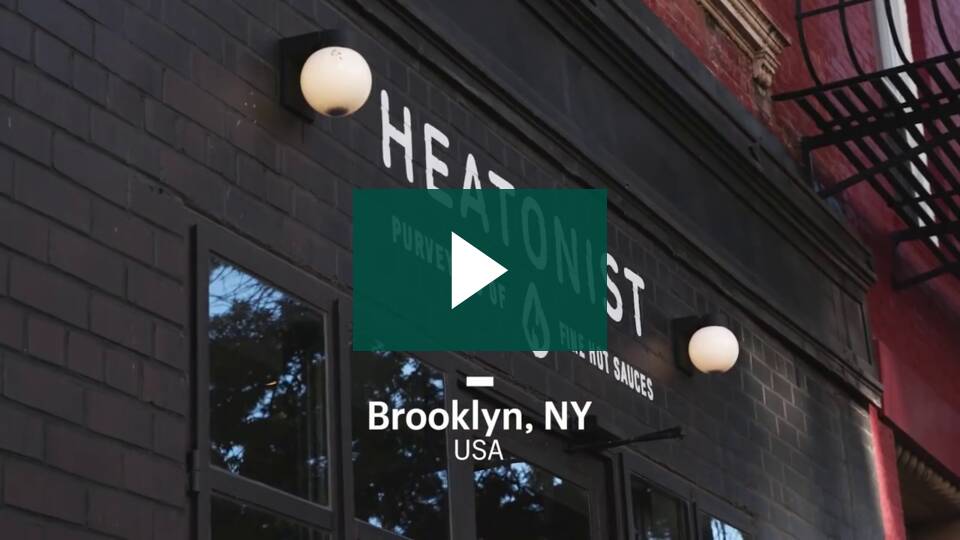 With growing volumes and sales climbing up, packaging became more time and space consuming. For scalability and better customer experience, Heatonist was in search of third party logistics (3PL). However, previous experience with 3PL providers left a bad taste in the mouth and raised new problems. Customers complained about the packaging and delay in orders. The brand had transportation support but it was a challenge controlling how 3PL providers packaged and dispatched orders. In 2019, Shopify announced Shopify Fulfilment Network. A fulfilling experience with Shopify over its eCommerce solution and Point of Sales system encouraged Noah Chaimberg to opt for Shopify Fulfillment Network (SFN).
Fortunately, laying all eggs in the Shopify basket worked for the company and finally found a fulfillment solution. SFN met the company's standards of packaging and the team's commitment to consider every minute detail helped the Heatonist to grow. The costing of SFN is as per industry standard and is proved to be a highly dependable and efficient fulfillment partner. This partnership allowed Heatonist to increase its sales volume considerably and take advantage of any unexpected sales spikes. Heatonist enjoyed the following advantages:
Guaranteed three-day shipping with improved customer experience

No longer warning customers of potential fulfillment delays on the website.

Opportunity to focus on building its brand—not logistics
SFN takes care of the heavy lifting as the shipping needs are meticulously met allowing Noah and the team to focus on other aspects of the business.
"Working with the team at Shopify Fulfillment Network has been great because it's given us the confidence to focus on other areas of our business. Before, we were always holding the reins on growth. Now, having confidence on the fulfillment side lets us say, 'Okay, how do we want to grow this company?"

  -Noah Chaimberg
Final Words
There are no shortcuts to success and studying this brilliant and exemplary example can guide you in creating a successful Shopify store. Insights and learnings from such eCommerce victories can pave the way to build your brand. If you are looking for versatility, technical support, and the best user experience for your eCommerce store, Shopify it is! The journey of Heatonist starting from a pushcart to being the most trafficked hot sauce website in the world is inspiring. In addition to everything else, it has given all the small indie makers of all-natural hot sauce a chance to grow in this ecosystem. Remember the world is your oyster! The stage is ready and just a few clicks away to build your dream store.